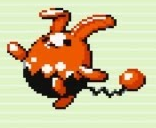 Azombarill is a fakemon. It is a Zombified version of Azumarill. Graveill evolves into it at Lv.18 Its abilities are Thick Fat and Huge Power, and it gives 3 HP EVs when defeated. Its Gender Ratio is 50% Male 50% Female. Its Base Happiness is normal (70), its growth rate is 800,000 Max EXP and it cannot breed.
Pokedex entry:
Type: Dead Rabbit Color: Red
Height: 2'7 Weight: 62.8
AZOMBARILL was so far decayed
that its brain broke and it thought
it was a chicken.
An angry, murderous chicken.
Stats:
| Stat | Value |
| --- | --- |
| HP | 120 |
| Attack | 70 |
| Defense | 100 |
| Special Attack | 60 |
| Special Defence | 100 |
| Speed | 70 |
| Total | 520 |
Moves By Levelling Up:
Lv 1 TACKLE
Lv 1 TAIL WHIP
Lv 1 WATER GUN
Lv 1 DEFENSE CURL
Lv 3 DEFENSE CURL
Lv 6 TAIL WHIP
Lv 10 WATER GUN
Lv 15 ROLLOUT
Lv 24 BOILINGWATER
LV 34 DOUBLE-EDGE
LV 45 RAIN DANCE
LV 57 STORM SURGE
TM
TM01 FOCUS PUNCH
TM03 WATER PULSE
TM06 TOXIC
TM07 HAIL
TM10 HIDDEN POWER
TM13 ICE BEAM
TM14 BLIZZARD
TM15 HYPER BEAM
TM17 PROTECT
TM18 RAIN DANCE
TM21 FRUSTRATION
TM23 IRON SLAM
TM27 RETURN
TM28 DIG
TM31 ICE PUNCH
TM32 DOUBLE TEAM
TM40 BEAT UP
TM42 FACADE
TM43 SECRET POWER
TM44 REST
TM45 ATTRACT
HM
HM03 SURF
HM04 STRENGTH
HM06 ROCK SMASH
HM07 WATERFALL
HM08 DIVE
Ad blocker interference detected!
Wikia is a free-to-use site that makes money from advertising. We have a modified experience for viewers using ad blockers

Wikia is not accessible if you've made further modifications. Remove the custom ad blocker rule(s) and the page will load as expected.